This post brought to you by
Bright House Networks
. All opinions are 100% mine.
When the iOS 7 software was upgraded, I encountered minor problem with my BHTV app. I checked the BHTV's FAQ and since I am not a tech savvy, I contact customer support and with in the day, they helped me fix it. They deleted my old MyServices account and created a new one which really works perfectly! As a subscriber of Bright House Networks for almost 4 years, I must say that I am a happy camper with this company.
BHTV or Bright House Networks TV is an amazing feature of Bright House because I can watch TV anywhere in the house using my computer, iPad, and iPhone. At night, it is very convenient to use it while I lay in bed using my iPad. BHTV is a free service available to all Bright House Networks video customers. Using their Bright House MyServices account, customers are allowed to access the BHTV service. BHTV app is easy to set up and if you are a customer and did not avail this service yet, you can
download the app
via Apple App Store or Google Play. BHTV app is a great app to download. You can view BHTV using the computer too.
Please take note that BHTV only works with in the range of your home's wireless network. You can watch TV while in the kitchen, in the garage, in the garden, in the front or back porch and anywhere inside your home. The photo below was taken in my bedrrom as I watch TV while I lay in bed.
Make Any Room a TV Room!
This is definitely true with BHTV.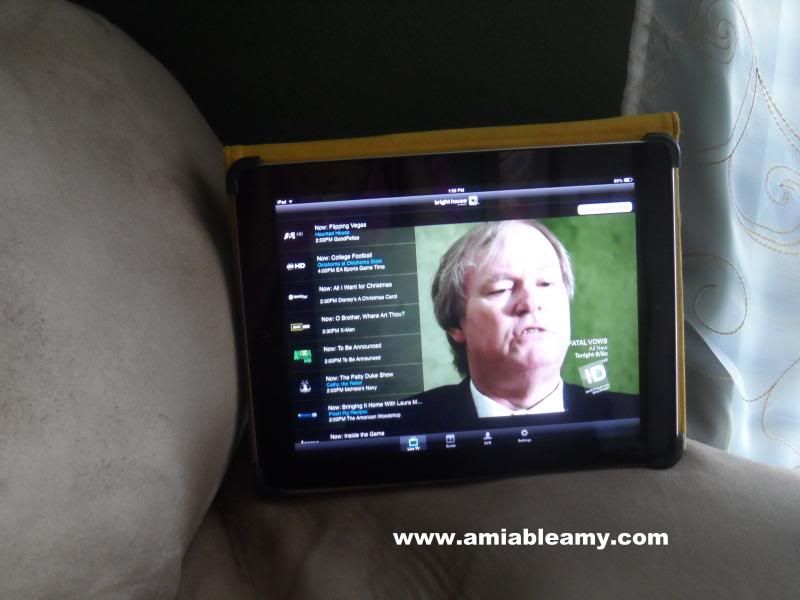 If you are interested to become a Bright House Networks subscriber, check out
BHTV's FAQ
for more details. You will enjoy the services of Bright House for they have approximately 250 channels available through BHTV and they are adding more channels every now and then.