A failed alternator is one of the most common car problems out there. Alternators are essentially small electrical generators that your car uses when the car is running to charge the battery and operate critical functions such as turn signals and headlights. Alternators are essentially an electrical motor that is spun by the fan belt, producing electricity for the cars use. These fail commonly because the bearings in the spindle eventually wear out causing it to freeze up or start squealing. Additionally, extra heat produced by worn out bearings can melt solder joints, causing the alternator to fail at producing the correct current and voltage. Luckily, replacing an alternator on most vehicles is one of the most routine and simple procedures possible on a car. Additionally, if you visit your local salvage yard in Los Angeles, you will usually find a good supply of used units available for cheap. This article will discuss how to change your alternator safely.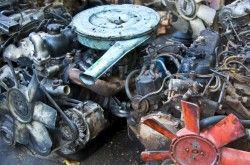 Remove the Faulty Unit
To start out with, disconnect the battery from the car so that there isn't a possibility of accidental electric shock. Next, locate the car's fan belt tensioner and loosen the fan belt just enough to relieve the tension on the alternators pulley. After the tension has been released, disconnect the wiring at the quick connectors and remove the mounting bolts. Some vehicles may have a recessed alternator that requires removal of other components first, such as AC compressors or power steering units. If this is the case remove these parts as well and set them aside.
Install the New Unit
Before you purchase a used alternator from a
salvage yard in Los Angeles
you should have it tested to ensure that it is functioning properly. The salvage yard likely will have the equipment to do this at the front desk, and the test is usually done free of charge. Once you have verified the condition of you used part, install it in exactly the opposite order you removed the faulty one, except that you should make sure that all electrical connections, including from the alternator to the chassis, are free of dirt, debris and corrosion. If the connections are not clean the alternator won't be able to pass enough current to run the car, and you will break down on the side of the road as soon as the battery runs out of juice.