Do you like to watch GLEE? I followed it every series and watched their music videos in YouTube as well. The Glee is fun to watch. It reminded me of my Glee Club years too. Music, friendship, food, laughter's, relationship, hang-out, and drama combined into one. Anyway, do you like to read books?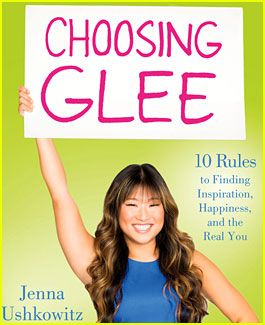 Jenna Noelle Ushkowitz was born in South Korea, an American stage and television actress, singer and writer, who is known for her role as Tina Cohen-Chang on Glee. At 3 months old, she was adopted and raised in East Meadow, New York. Look what she accomplished! I saw her promoting her book at Fox news today.
Choosing Glee is a practical guide on how to be true to yourself and how to gain self-esteem. The book is a guide to find your inner confidence. Jenna shares her life experiences from rejection to success. She shares her insight on what lessons she learned from those experiences.
If you are a big fan of Jenna, you will learn more about her life before and after Glee. Of course, included in the book is her story of being adopted from South Korea. You will also learn what appearances and commercials she did. You will learn about her moments in Sesame Street; her first Broadway role in The King and I and most especially, having the part of Tina on Glee.
The book also speaks about her long-time friendships with Lea Michele (Rachel Berry) and Kevin McHale (Artie). Choosing Glee speaks about Jenna's life and "
the choices she has made that have shaped her positive outlook
".
Check this book in the bookstore today. A great book not only for teens but, for adults too.